Easy Healthy Recipes:

Chia Pudding and 5 Things You Can Do With It
This is the mother of all easy healthy recipes: basic chia pudding - vanilla, chocolate, and banana versions…
…and 5 recipe ideas to use it.
Even though chia pudding is great all by itself!
Chia is an amazing food! One ounce of chia boasts the following nutritional stats:
4 g protein

4.9 g omega-3 fatty acids (compared to 1.6 g omega-6 fatty acids); 9 g total fat

11 g fiber (42% of the RDA); 12 g total carbohydrate

18% RDA Calcium

27% RDA Phosphorus

30% RDA Manganese
So while, yes, you can grow some funky hair on a terracotta animal with ch-ch-ch- chia seeds, I much prefer my chia in my food.
I have been delighted with chia pudding for quite some time. This recipe is not quite the same texture as yogurt, it's more gelatin-like, and I have chosen to call it a pudding.
Below are two basic recipes: one for a vanilla pudding made with coconut milk, and one for a chocolate pudding I make with raw almonds.
If you don't put it in a high-speed blender, and just mix the ingredients well, you will get a tapioca pudding-like consistency.

In addition, there are 5 ideas for yummy (and easy) things you can make with it listed below.
Once you start using chia pudding, I have no doubt you will find plenty of uses for it.
PS- Don't make the chocolate version with raw nuts unless you have a really good high-speed blender. You can add cocoa powder instead of vanilla to the first recipe (the one with the coconut milk base) to make chocolate chia if you are in doubt about your blender's capabilities.
These recipes are mostly
RAW

VEGAN

VEGETARIAN

WHOLE FOODS
These recipes are also
gluten-free

dairy-free

soy-free

corn-free
---
Vanilla Chia "Pudding"
Ingredients

2/3 c dried chia seeds
1 can unsweetened coconut milk (13.5 oz)
1 can water (13.5 oz)
2 tsp vanilla extract (pure)
2 Tbsp raw agave or honey*
Directions

Blend chia in a food processor or high-speed blender until more like chia meal. Add coconut milk, water, vanilla, and sweetener. Blend until well-combined. Taste and add more vanilla or sweetener to your liking. Chill until thickened. Serve cold plain, or in one of the combinations below.
Makes approximately 4 cups. Keeps up to 3 days if refrigerated.
*I use vanilla stevia as our sweetener.
By the way, I turn this into a dairy-free banana pudding recipe by adding 3 very ripe bananas.
---
Chocolate Chia "Pudding"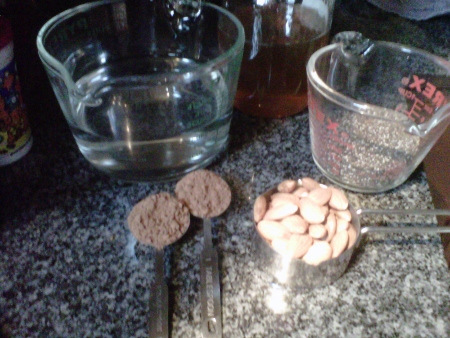 Ingredients

½ c raw almonds
2 ½ c water
2/3 c chia seeds
4 Tbsp cocoa powder
3 Tbsp raw honey or agave
Pinch salt
Directions

Combine all ingredients in a high speed blender until smooth. Chill until thickened. Enjoy plain, or serve in one of the combinations below.
Makes approximately 3 cups. Keeps 3-4 days when refrigerated.
---
Chia "Pudding" Recipes

Peach Smoothie (or other fruit)
---
What is your go-to healthy snack? Share with us below...
Return to Healthy Recipes from Easy Healthy Recipes: Chia Pudding
Go to The Science of Natural Health Homepage from Easy Healthy Recipes: Chia Pudding

Note: This page may contain affiliate links.  You get the great product that I would recommend anyway at the normal price, and I get a few pennies to to support my love for Sharing the Science.  You can check out my Privacy Policy, too.