Healthy Snack Recipes for Kids
4th of July Parfaits

The best healthy snack recipes for kids start with berries!
Who doesn't like bright red strawberries and deep blue blueberries? They're even fun for kids to pick! I could eat berries every day for the rest of my life, and the good news is that would be a great thing for my health. What other food can you honestly say that about?
I happily put berries in "treat" status without a single bit of guilt about eating them. And my kids share in that view of berries as "treats." All this talk, and now I'm really craving some berries... mmmmmm, nom-nom, berries.

This recipe features those summer berry favorites along with some delicious vanilla chia pudding that is loaded with good nutrition.
If you're not yet on the chia cheerleading squad like me, be sure to check out the simple chia pudding recipes here, and their nutritional virtues. Then you, too can sing its praises, and get creative.

And while the colors of strawberries and blueberries lend these snacks to 4th of July festivities, I whip these out whenever I want... uh, I mean, my kids want something yummeriffic!
PS- Don't reserve these just for snacks. They make a delightful breakfast, or even lunch option, too.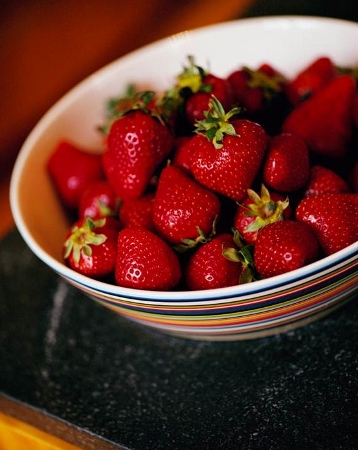 This recipe is
VEGAN

VEGETARIAN

WHOLE FOODS
It is also
gluten-free

dairy-free

soy-free

corn-free

nut-free

egg-free
Ingredients

1 c strawberries
1 c blueberries
Granola or chocolate chips (optional)
Directions

Portion strawberries into the bottom of four glasses. Top with approximately ¼ c "vanilla pudding" each. Layer blueberries into each of the glasses, and top with another layer of "pudding." Sprinkle with granola or chocolate chips to top.
Serves 4.
Do you make special dishes for the holidays? I love the idea, but rarely follow-through with it. What is your favorite "patriotic" dish? Share with us below...

Return to Healthy Recipes from 4th of July Parfaits
Go to The Science of Natural Health Homepage from Healthy Snack Recipes for Kids
Note: This page may contain affiliate links.  You get the great product that I would recommend anyway at the normal price, and I get a few pennies to to support my love for Sharing the Science.  You can check out my Privacy Policy, too.