Healthy Breakfast Cookies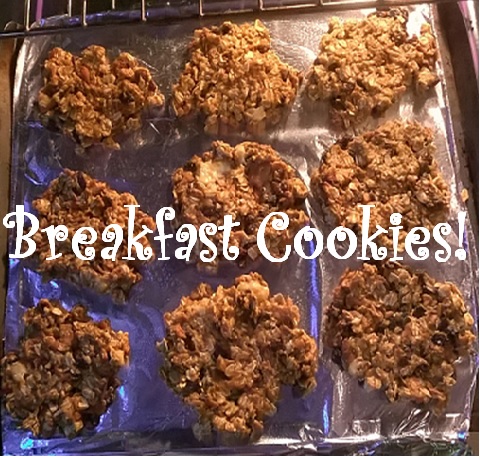 Are you in a breakfast rut?  We were.  Until...  breakfast cookies!

First rule of parenting: be careful what you name your food.  If you name it well, they will eat it.  So, really, breakfast cookies are a huge hit at our house once I even mention them.
Now, there are a lot of 3-ingredient banana oatmeal cookie recipes out there.  And they're yummy, don't get me wrong.  But I really wanted a loaded cookie for breakfast so that it would feel more like a meal and less like a snack.  I know you know what I mean. 

This recipe is
vegan
vegetarian
gluten-free
egg-free
dairy-free
sugar-free
nut-free

Ingredients
2 bananas
2/3c canned pumpkin
2-3 Tbsp maple syrup
1 Tbsp ground cinnamon
1 Tbsp ground flaxmeal
1c dried apple, crushed
1c raisins
1 1/2c oatmeal (use certified gluten-free oats to ensure your cookies are gluten-free)
Directions

Preheat oven to 350F.  Grease a cookie sheet.  Blend or mash together the banana, pumpkin, maple syrup, cinnamon and flaxmeal.  In a mixing bowl, measure the dried apples and raisins.  Pour in the banana mixture and stir.  Add oatmeal and combine well.  Drop the batter onto the cookie sheet and flatten into cookie sizes and shapes.  I made 9 large breakfast cookies, personally. Cook for 12-20 minutes, depending on the size of your cookies.  Mine took 20 minutes.  Allow to cool before removing from the cookie sheet.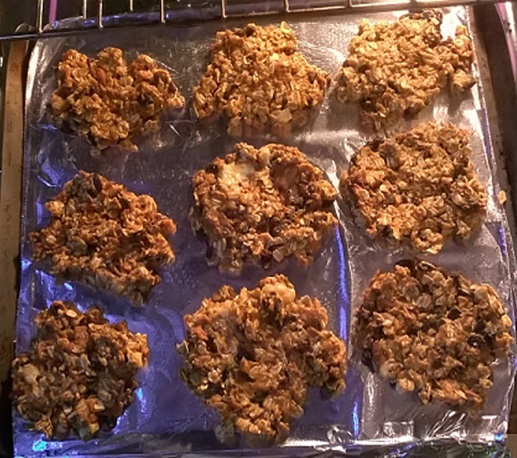 My 5 year old and 6 year old boys each ate 3 cookies (1/3 of the recipe), the 2 year old ate one, leaving one each for my husband and I.  It was the perfect amount. 

Serve these up with almond milk, or a smoothie, or a protein shake.  I may even spread some nut butter on mine!
I actually found the dried apples I used in the breakfast cookies as apple chips at Costco.  They had suffered through a road trip with us, so I needed to find a use for all the crumbles at the bottom of the bag!  They really added a lot to the recipe, though, and I would make every effort to include them again next time.  I'm sure you could add walnuts or pecans to this recipe very easily.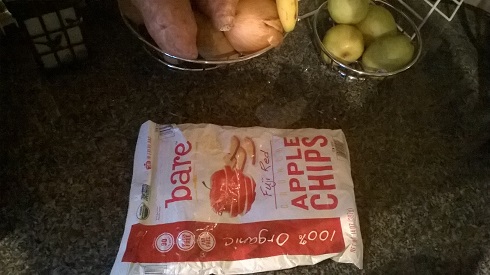 Return to The Science of Natural Health Homepage from Breakfast Cookies

Note: This page may contain affiliate links.  You get the great product that I would recommend anyway at the normal price, and I get a few pennies to to support my love for Sharing the Science.  You can check out my Privacy Policy, too.