Simple Healthy Recipes:
Berries 'n "Cream"

Ch-Ch-Ch-Chia!
Chia seeds are in the majority of my simple healthy recipes.
Not just great for growing grassy hair on terracotta figures, chia seeds are loaded with protein, fiber, omega-3 fatty acids, and calcium, and all sorts of other valuable nutrition.
Check this out:
In one ounce of chia seeds you'll get 4g of protein, 11g of fiber, 4.9g of omega-3 fatty acids, and 18% of the daily recommended amount of calcium.

Despite the name, this is a dairy-free recipe, with chia pudding playing the role of "cream." And it turns out that chia pudding is really easy to make.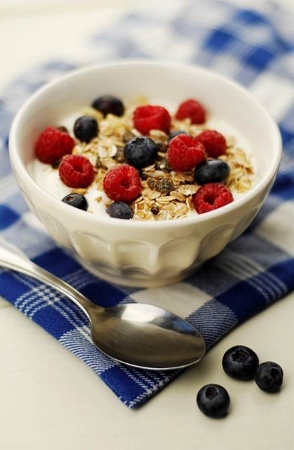 This is a favorite summer recipe because you can make it with whichever berries are available. We grow strawberries and raspberries at our house, so those find their way into this recipe often. Although, we have been buying a ton of bueberries this year, so if I had my way, we would be growing those as well. Perhaps a few blueberry bushes will be my next landscape investment.
And, during colder months, you can always pair the "cream" with banana slices... or peaches, or stewed apples, or anything else that sounds yummy!

This recipe is

VEGAN

VEGETARIAN

WHOLE FOODS

It is also

gluten-free

dairy-free

soy-free

corn-free

nut-free
Ingredients
2 c mixed berries
2 c vanilla or chocolate chia "pudding"
1 banana (optional)
granola (optional)

Directions

Portion berries into 2-4 bowls and top with chia pudding. Serve immediately. Top with banana slices, or granola, if desired.
Serves 2-4.
What is your favorite fruit? Do you grow any fruit at your home? If you could grow one fruit, what would it be? Share with us below...

Personally, I would like to grow every fruit at my home. That's my dream.
Return to Healthy Recipes from Simple Healthy Recipes: Berries 'n Cream
Go to The Science of Natural Health Homepage from Berries 'n Cream
Note: This page may contain affiliate links.  You get the great product that I would recommend anyway at the normal price, and I get a few pennies to to support my love for Sharing the Science.  You can check out my Privacy Policy, too.