Healthy Dessert Recipes:
Cookie Dough "Blizzard" Fake

There are a few indulgences that I never thought I would see on a list of healthy dessert recipes, and blizzards are right up there.
I actually remember the first time I ever had a blizzard. I was on a family vacation and we stopped along the way, for the first time in my life, at a Dairy Queen. I have been hooked ever since. I actually didn't realize Dairy Queen served anything but ice cream until I was married in my 20's and a coworker came back from lunch with chicken fingers. I was literally astounded that she got chicken fingers there. Can we say "one-track mind?"
So, blizzards remained on my guilty pleasure list until very recently when I came up with a suitable substitute.
This recipe relies on vanilla chia pudding for the creamy goodness, and frozen cookie dough balls.
Compared to our other chia pudding recipes, this one requires the most forethought because you have to make and freeze the cookie dough and a banana in advance, but that little extra preparation is worth it. Finally, a blizzard without the guilt (or the tummy-ache).
If you don't like a hint of banana flavor, try using a few cubes of frozen canned coconut milk and some vanilla stevia instead.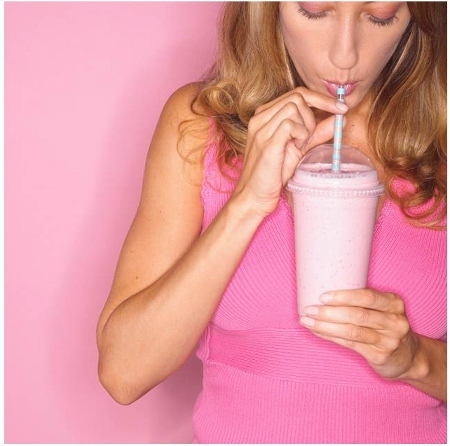 This recipe is
VEGAN

VEGETARIAN

WHOLE FOODS
It is also
gluten-free

dairy-free

soy-free

corn-free

nut-free

egg-free
Ingredients

Using the delightful recipe for "Cookie Dough Dip" on this site, I freeze small balls of "cookie dough" for this special treat!
½ c vanilla or chocolate chia pudding
2 Tbsp nut butter
1 large frozen banana (peel and chunk before freezing) - or see note above

¼ - 1 c milk or substitute
Directions

Frozen cookie dough balls – I use 4 balls, but it will depend on their size - approximately 2-3 Tbsp, or to your taste.
Blend all ingredients except cookie dough in a high speed blender or food processor until smooth. Use enough "milk" to achieve the desired consistency. Add the cookie dough and pulse just until chunks are dispersed throughout.
Serves 1.
Return to Healthy Recipes from Healthy Dessert Recipes: Cookie Dough Blizzard
Go to The Science of Natural Health Homepage from Cookie Dough Blizzard
What is your favorite guilty indulgence? What is your favorite blizzard flavor? When was the last time you had a blizzard? Share below...
Note: This page may contain affiliate links.  You get the great product that I would recommend anyway at the normal price, and I get a few pennies to to support my love for Sharing the Science.  You can check out my Privacy Policy, too.