The Effects of Home Pesticides
on Children

We may be taking for granted the health effects of home pesticides...
In a time when the health effects of pesticides, and the effects of pesticides on the environment are of great concern in the United States, and in agricultural communities around the world; when GMO's are hotly debated, and RoundUp is a multibillion dollar industry,
a lesser known, but potentially more concentrated threat lies in home pesticide use.
A recent study of over 14,000 children (and their parents) showed that 22% of the households surveyed had used home pesticides within the past month alone, making pesticide residues within the home extremely prevalent.
In 2007, approximately 165 million pounds of pesticides were applied to residential homes, yards and gardens.
Respiratory symptoms in young children in the United States are also extremely prevalent: 22% of preschool-aged children report chronic coughs in the absence of a cold.
While pesticide use has long been associated with respiratory complaints among adult workers exposed to high concentrations of pesticides, research has not studied the effects of chronic low-level exposure in the home, and specifically on children.
Children are of particular interest in this case because they represent a more vulnerable population than adults for several reasons.
First, children tend to interact with their environment in a way that would increase exposure – spending considerably more time on the floor, in the yard, and putting things in their mouths.
Second, children are potentially more vulnerable to the toxic effects of pesticides due to their physiology – the concentration of exposure is higher in children simply because they have smaller body weights, and a larger exposed body surface per volume. And children have a quicker absorption rate than adults.
The combination of close contact with pesticide-contaminated surfaces, increased surface area, lower body weight, and quicker absorption characteristics make children particularly vulnerable to toxins in the home.
What the Researchers Did
Researchers used data from the National Health and Nutrition Examination Survey from 1999 to 2004. Information about pesticide use and respiratory symptoms were analyzed for correlations between the two.
Researchers also controlled for other possible causes of respiratory symptoms, including age, demographic information, exposure to tobacco smoke, and smoking during pregnancy.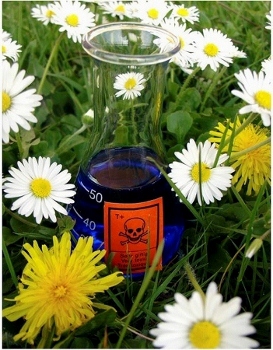 The Effects of Home Pesticides on Children
Researchers found that pesticide use in the kitchen and/or dining room was statistically correlated with chronic wheezing and dry cough that were not due to colds or flu.
Non-professional pesticide application, in general was associated with chronic phlegm in 12-17 year olds.
What We Can Learn

Pesticides are typically small molecules that are capable of being inhaled, and which potentially act on the immune system, causing an allergic-like reaction. Pesticides are one of the most common substances that can cause irritant-induced asthma.
In addition, pesticides may act as toxins to the immune system itself, thereby increasing vulnerability to infection.
Inhalation of pesticides may also act on the nervous system, and have its effects on respiration by dysregulating the neuronal connections of respiration.
Some research suggests that young animals are more vulnerable to the molecules in pesticides because their immature enzyme systems are unable to detoxify the chemicals effectively.
Other Considerations
Previous studies have shown that pesticide use in the home is correlated with an increased risk of asthma in children younger than 5 years old. This study looked at all children under the age of 18, and normalized for age groups (0-6, 7-11, 12-17), but did not show data for individual age groups. The researchers did not offer any more detailed analysis by age (ie: using smaller age groups that span only 1 or 2 years).
This study did not assess which pesticides were used, the quantity of pesticides used, or the frequency of use. One can assume that those who have used pesticides in the last month are those who are most likely to use pesticides often, but that assumption is faulty and could lead to an underestimation of the effects of frequent pesticide use.
This study also did not consider proximity to other airborne environmental contaminants such as roadways or factories.
Ultimately, this study calls for improved public education regarding pesticide use - location, and method of application - especially when children are in the home.
What do you think? Do you use commercial pesticides? There are lots of natural bug deterrents – have you ever had any luck with a natural option? Do you make any homemade pesticides? Please share below…
---
References
Xu X, WN Nembhard, H Kan, A Becker, EO Talbott. "Residential pesticide use is associated with children's respiratory symptoms." JOEM. Oct 2012: 54(10): 1281-1287.
---
Return to Current Science News from The Effects of Home Pesticides on Children
Go to The Science of Natural Health Homepage from The Effects of Home Pesticides on Children
Note: This page may contain affiliate links.  You get the great product that I would recommend anyway at the normal price, and I get a few pennies to to support my love for Sharing the Science.  You can check out my Privacy Policy, too.