Healthy Snack Recipes:
Chocolate Bars

Looking for back-to-school healthy snack recipes? Try these!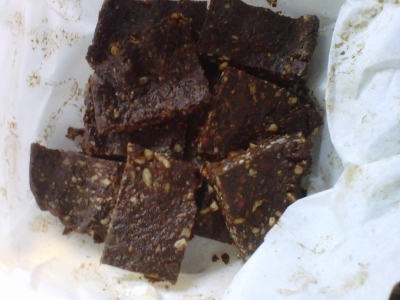 I have a confession: My family is addicted to LaraBars.
We don't just buy them by the box... we buy 2 or 3 boxes at once.

When you live a healthy, whole food, gluten-free, dairy free life in this processed world, convenience foods are few and far between.
Can I get an "Amen!"?
Come to think of it, our convenience foods to-go are pretty much limited to apples, bananas, and LaraBars. Oh, and these baby food pouches that my kids call "smoothies."
So, I am always on the lookout for homemade versions of those delightful little bars. Up until now, however, I haven't been too interested in all the saran wrap gooey mess I had seen going on in homemade LaraBar-like recipes. So I resigned myself to splurging on my little addiction, uh, I mean, indulgence.

But I was re-inspired when my godson could no longer eat nuts. And I'm pretty sure his family is addicted to LaraBars, too.
So there I was, wanting my own homemade protein bar recipe, and thinking that somewhere there must be a protein bar recipe that is both nut-free and easy!??!
And from that inspiration and a little creativity, these yummy chocolate bars were born. They are oh-so easy to make. My children love them, and I'm hoping my dear godson will love them, too.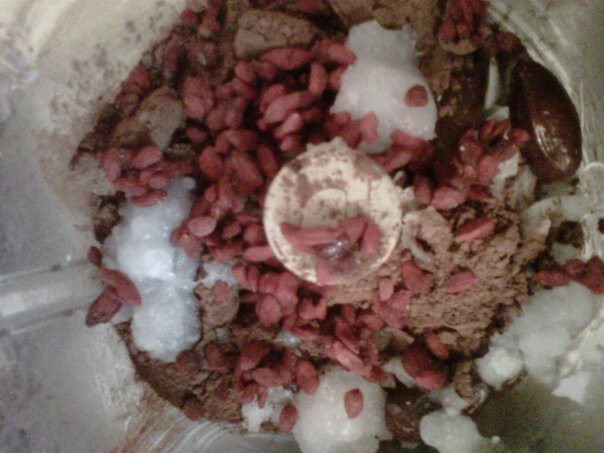 ---
This recipe is:
Raw
Vegan
Vegetarian
Whole Foods

And it is:

nut-free
gluten-free
dairy-free
soy-free
egg-free
corn-free
Ingredients
1/2c unsalted sunflower seeds
1/3c unsweetened coconut
1/4c goji berries, or other dried fruit (like raisins, cranberries, or cherries)
1/4c coconut oil *see note below

1/4c cocoa powder
12 dates, pitted

dash sea salt
1-2 Tbsp agave or honey (optional, to taste)
Directions
Combine all ingredients in a food processor. Process until well-combined, wet and crumbly. Press into a parchment-lined bread pan. Refrigerate or freeze until firm. Cut into approximately 8-10 bars.
*Note: The more liquid sweetener you use, the more "melty" the bar will be. You could also try substituting nut butter for some, or all of the coconut oil to give it a higher melting temperature... assuming you are not accommodating a nut allergy, of course.
PS- This recipe was adapted from a nut-containing version on a delightfull Real Food site called Beyond the Peel.

---
Return to Healthy Recipes from Healthy Snack Recipes: Chocolate Bars

Go to The Science of Natural Health Homepage from Healthy Snack Recipes: Chocolate Bars
Note: This page may contain affiliate links.  You get the great product that I would recommend anyway at the normal price, and I get a few pennies to to support my love for Sharing the Science.  You can check out my Privacy Policy, too.