Can Low Testosterone Levels in Men Explain a Decline in Physical Fitness?

Low testosterone levels in men have been blamed for everything from erectile dysfunction to cardiovascular disease. Is testosterone the fountain of youth that can reverse the age-related decline in physical fitness, as well?

Well, the science suggests that testosterone may just be the scapegoat for overall declining health in aging men. That is, declining testosterone may be a marker for ill-health, not the cause of ill-health per se.
In fact, lifestyle changes are just as effective as testosterone replacement therapy for physical decline that has been blamed on low testosterone levels in men.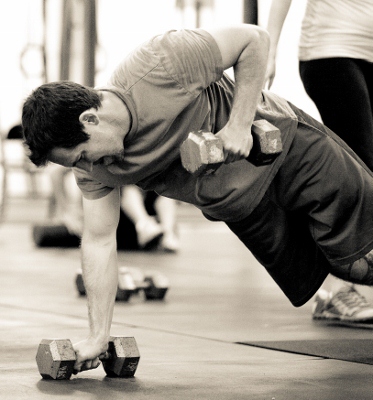 Nonetheless, the use of testosterone replacement therapy for combating the ill-effects of aging has become the latest craze among even middle-aged men who are looking to regain the physical fitness and energy levels that they experienced in their younger years.
And while there do appear to be benefits to a man's physical fitness by reversing the natural decline in testosterone, scientists consistently warn against its universal prescription for this purpose.
Here's how the science currently looks:
Naturally declining testosterone levels, and low testosterone levels in men have been associated with many physical fitness complaints, such as the following:
Men commonly experience a decline in physical function and mobility along with declining testosterone levels as they age (4,7).
Muscle mass, strength and exercise capacity all decline with aging, and the decline is associated with reduced testosterone levels (4,7).
Aging men and men with testosterone deficiency are more prone to increases in body fat and development of health ailments associated with poor physical fitness such as obesity, metabolic syndrome, and diabetes (7).
However, low levels of testosterone may not be causing these disease states and increased risks, but rather, are another symptom in the bigger picture of aging and ill-health.
That is, the science does not clearly say whether the testosterone levels are merely correlated with these adverse experiences, or are specifically causing them (1).
So why are so many men excited about taking testosterone to feel young again?

Studies have shown that replacing testosterone through hormone therapy can reverse some of the ill-effects seen with low testosterone levels in men, including improving muscle mass and strength, and reducing fat mass (2,3,4).
However, studies also show that elderly men can improve physical function with comparable results to hormone replacement therapy by following an exercise program (4). The fundamental problem with exercise treatment is that many men fail to comply (4).
Therefore, the scientists' conservative position discouraging widespread prescription of testosterone therapy seems particularly well-suited to complaints of declining physical fitness that can be sufficiently addressed through improved exercise regimens.
This appears to be an example of patients (and physicians) choosing an apparent "easy way out" with a pill, rather than committing to an exercise program that will garner similar results. If you, too, are considering the "magic pill," make sure you head over to this page to see the potential side effects and other considerations of testosterone replacement therapy.

What methods have you used to combat age-related physical decline? Share with us below...

References:
1) Corona G, G Rastrelli, L Vignozzi, E Mannucci, M Maggi."Testosterone, cardiovascular disease and the metabolic syndrome."Best Prac Res Clin Endocrinol Metab.2011;25:337-53.
2) Corona G, G Rastrelli, G Forti, M Maggi."Update in testosterone therapy for men."J Sex Med.2011 Mar;8(3):639-54.
3) Cunningham GR, SM Toma."Clinical Review: Why is androgen replacement in males controversial?"J Clin Endocrinol Metab.2011 Jan;96(1):38-52.
4) Giannoulis MG, FC Martin, KS Nair, AM Umpleby, P Sonksen."Hormone replacement therapy and physical function in healthy older men.Time to talk hormones?"Endocr Rev.20 Mar 2012 [Epub ahead of print].
5) Nguyen CT, A Aaronson, RP Morrissey, M Agarwal, RD Willix, ER Schwarz."Myths and truths of growth hormone and testosterone therapy in heart failure."Expert Rev Cardiovasc Ther.2011 Jun;9(6):711-20.
6) Saad F, A Aversa, AM Isidori, L Zafalon, M Zitzmann, L Gooren."Onset and effects of testosterone treatment and time span until maximum effects are achieved."Euro J Endocrinol.2011;165:675-85.
7) Traish AM, MM Miner, A Morgentaler, M Zitzmann."Testosterone deficiency."Am J Medicine.2011;124:578-87.
Return to All About Low Testosterone to learn more about potential side effects and other uses for Testosterone Replacement Therapy.
Read more About Testosterone and Erectile Dysfunction.
Go to Natural Health Articles by Topic from Low Testosterone Levels in Men and Physical Fitness.

Head to the Science of Natural Health Homepage from Low Testosterone Levels in Men and Physical Fitness.
Note: This page may contain affiliate links.  You get the great product that I would recommend anyway at the normal price, and I get a few pennies to to support my love for Sharing the Science.  You can check out my Privacy Policy, too.