Healthy Vegan Recipes: Lentils with Herbs
To share your healthy vegan recipes, head over to our recipe forum.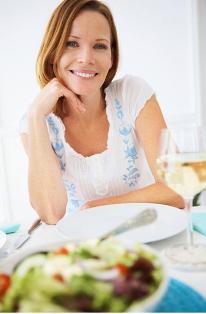 There are many reasons to eat vegan meals:
they are typically nutrient-dense,
many avoid common allergens,
they are easy on the budget,
they add variety to mealtime menus,
and in many ways, they are easier on the environment.
The only reasons most of us don't eat vegan foods is because the recipes are not common and the foods may not be familiar.
After all, eating vegan meals does not mean that one is "anti-meat" or a vegan. Rather, it is a healthy choice at mealtime.

Research has shown that vegetarian and vegan diets are associated with lower risks for high cholesterol and heart disease, for example.
So, whether you're a vegan at your core, or just looking for a way to eat healthier, this recipe is great.
I like to use a combination of brown lentils and yellow split peas, but feel free to experiment. The color of this dish is part of what makes it appealing.
Use it as a side dish, or as a full meal.
PS- I highly recommend splurging for fresh herbs in this recipe.
---
This recipe is
VEGAN
WHOLE FOODS
It is also
gluten-free

dairy-free

egg-free

nut-free

soy-free

corn-free
Ingredients:
1 c lentils or split peas (any color)
1 c broth (or water in a pinch)
1/4 c diced onion
1/2 tsp sea salt
2 plum tomatoes, diced
2 Tbsp fresh basil, chopped (or 1-1/2 tsp dried)
2 Tbsp fresh parsley, chopped (or 1-1/2 tsp dried)
2 Tbsp olive oil
1 Tbsp apple cider vinegar
Additional broth (optional)
Directions
In a skillet on medium heat, combine the first 4 ingredients. Cover and bring to a boil. Reduce heat to low, and simmer until lentils are soft, approximately 30 minutes. Stir in remaining ingredients and heat approximately 5 minutes - just to serving temperature.
Serves 6 as a side or 3-4 as a meal.
Serve with extra broth if you prefer a soupier consistency.
Pairs nicely with a fresh salad or chicken prepared simply.
---
Return to Healthy Recipes from Healthy Vegan Recipes: Lentils with Herbs

Go to the Science of Natural Health Homepage from Healthy Vegan Recipes: Lentils with Herbs