Fish Oil During Pregnancy and Child's Risk for Asthma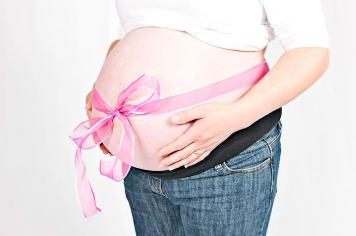 Researchers in Finland studied the effects of fish oil during pregnancy by following the diet of mothers during their 8th month of pregnancy, and their children for 5 years after birth.
Mothers with an increased consumption of total omega-3 fatty acids birthed children who were less likely to have persistent asthma.
Previous studies have shown that low consumption of the omega-3 ALA (alpha-linolenic acid) during pregnancy was associated with an increase in infant wheezing.
In this study, mothers who ate more omega-3 containing foods during pregnancy were less likely to have children who had asthma at 5 years old.
Fish oil during pregnancy is believed to have a protective effect against allergic disease and asthma through its effects on the immune system.
ALA and other omega-3 fatty acids are found in food sources such as fatty fish, walnuts, flaxseed, pumpkin seed, and hemp seed.
In stark contrast, the risk for childhood persistent asthma increased for children born to mothers with a higher consumption of AA (arachidonic acid).
Mothers who consumed large quantities of AA during pregnancy were more likely to have a child with asthma 5 years after birth.
AA is used in inflammatory pathways in the body, so too much may aggravate the developing immune system or airways. It is important to note, however, that the developing fetus needs some AA for proper development.
AA is an omega-6 fatty acid common in foods such as beef fat and egg yolk.
Eating plenty of saturated fats during pregnancy meant children were less likely to suffer from asthma.
Mothers' diets that were rich in saturated fatty acids, and especially the long-chain fatty acid palmitic acid, during pregnancy also were associated with children with a decreased risk for asthma.
It is possible that the benefits of saturated fatty acids could be attributed to the calcium in dairy products.
Saturated fat and specifically palmitic acid were most commonly consumed as full-fat dairy products in this study.
Relatively few of the mothers received their omega-3 fatty acids from supplements, showing that dietary changes during pregnancy can have potentially large impacts on the future health of children.
You may also like to read about the benefits of fish oil supplements.

Or, one common prescription during pregnancy increases the risk of autism.

You can also check-out more information on natural pregnancy and childbirth.


---
References
Lumia, M, P Luukkainen, H Tapanainen, M Kaila, M Erkkola, L Uusitalo, S Niinisto, MG Kenward, J Ilonen, O Simell, M Knip, R Veijola, S Virtanen. "Dietary fatty acid composition during pregnancy and the risk of asthma in the offspring." Pediatr Allergy and Immunol. Dec 2011; 22(8): 827-835.
---
Return to Current Science News from Fish Oil During Pregnancy and the Risk for Asthma

Go to the Science of Natural Health Homepage from Fish Oil During Pregnancy and the Risk for Asthma