More Fish Oil Benefits: All (polyunsaturated) fats are not created equal...
We've all heard about omega fatty acids, and have probably wondered about the scientific benefits of fish oil.
Well, in an article published in the August 16, 2011, issue of the Journal of Nutritional Biochemistry, Gustavo Pimentel, et al, showed that the way that fats from soy (omega-6) and fats from fish (omega-3) interact with a person's biochemistry differ in a potentially big way.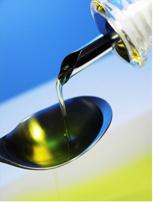 Even though both omega-6 soy fats and omega-3 fish fats are polyunsaturated - which are not nearly as taboo as saturated fats, or those dreaded trans-fats - apparently, there's no reason to let our guard down just yet.
To complicate the fat story more, we can't lump all polyunsaturated fats together. Here's why:
Previously, researchers showed that omega-6's contribute to obesity and insulin resistance, while the opposite is true of omega-3's.
In addition, researchers previously showed that the two fats affect the hypothalamus (an "eating control center") differently: omega-6 soy fat (which is very common in vegetable oils) impairs the message that signals satiation to the hypothalamus, unlike omega-3 fish oil.
That's right, the fact that both fats carry the same number of calories per unit did not matter. It was the specific fat type that made all the difference.
So here's the deal: a high fat diet in which the fat was from fish oil (mostly the EPA or DHA omega-3 fat varieties) lead to a significantly lower body weight and less fat mass. This was in comparison to a high-fat diet comprised of soy fats (the omega-6 variety)... and, remarkably, fish-fat rats lost weight and had less body fat than even control diets eating lower "healthy" levels of fat!
Normal diets meant 15% of calories were from fat.
A high-fat diet meant a whopping 50% of calories were from fat... and those fish-fat-fed rats still lost weight!
Did I mention the experiment lasted 8 weeks?
In addition, rats fed high fish-fat diets, showed decreased corticosterone (stress hormone) levels, and improved blood lipid profiles.
Typically, animals will decrease their food intake when insulin levels increase - a simple way for the body to moderate food intake. This response was abolished in rats fed a soy high-fat diet, but was still present in rats fed the fish high-fat diet.
Quality, not quantity is the important message here. Fish oil benefits the eating regulation centers in a way that omega-6 soy fats do not. This study supports the notion that how much fat we eat is not the issue, it is the type of fat. Return to Current Science News from Fish Oil Benefits Versus Soy Go to the Science of Natural Health Homepage from Fish Oil Benefits Versus Soy